Dec 06, 2013 at 09:11 AM


Twas the fifth day after Christmas, and all across the bar
The booze flowed freely, but not very far
The waitresses' outfits, skimpy as can be
Enticed the drunkards, to grab what they could see

A fuzzy eared rabbit sat alone in the corner
His basket on the floor, eggs halved into quarters
A full glass of whiskey was poured for this chap
He picked the liquor and downed it with a slap

Then all of a sudden, the door burst from it's jam
In the doorway stood a monster, it was the main man
At 6'5" he was quite the sight
Combat boots, chains, he was quite the fright

His dark eyes scanned through all the smoke
Looking for the rabbit who called him in on this joke
Their eyes met in darkness, the rabbit motioned over
The big man moved quick, as if he was sober.

I have a job for you, if you the balls.
I want someone dead, goes by the name S. Claus
To kill the fat man, the one who wears red
His face is all jolly and he wears a hat on his head

The big man smiled and showed his yellow teeth
It would be a treat for me to gut this seasonal creep
I shall assemble my team, all men wanted dead
They will slash and maim, play soccer with his head!

Now Gomez, Peters, Smith, and Saint!
On Brewer, Walker, Rodriguez, and Feint!
Off to the bikes, let's kickstart some hell
To start St Nick of on his last farewell.

The rabbit kicked back, he mind was carefree
For once in history he was at the place he should be
He beckoned to a barmaid that was quite near
A Happy Easter to you, now nice lady bring me a beer!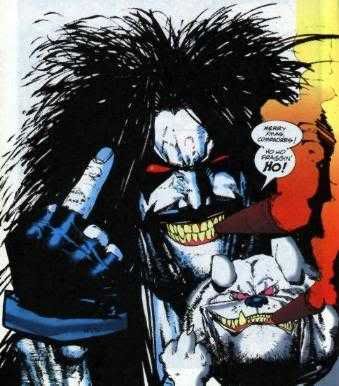 In 1991 DC Comics gave us "Lobo - The Paramilitary Christmas Special". It told the story of Lobo - who is a cross between the Joker, the Punisher, and Wolverine - who is hired in a bar by a very drunk Easter bunny to kill St. Nick. It's seems in the DC Comic world, the Easter bunny feels very unappreciated and is tired of all the publicity and seasonal gripe that comes with Christmas and St. Nick. Lobo a.k.a. "The Main Man" is contacted to take the big man out and when he gets to the north pole, he lays waste to everything with a heartbeat. Reindeer, elves, no one is spared, S. Claus is literally ripped limb from limb, it's a great book and an iconic piece of comic book history. Today we have culminated this piece of '90's era heritage into a workable airsoft event. Love Christmas or hate it with a passion, today is the day you can defend your values to the death.

Enjoy!


Location:
Paintball EXPLOSION


Game Type
Capture the
Claus


When
December 8th, 2013


Price:
30.00 per player


Timetables:
Registration/Chronograph: 0900

Game/Safety Briefing: 1000

Game Over, Pack up, and Game Debrief: 1630


Camo/Uniform Regs
ANYTHING YOU WANT - Armband game


Weapon limits:
All AEGs - 400fps - no higher

Sniper rifles - 550 fps - 100 foot no shoot zone - spotter rule in effect

203 shells - a no shoot 15 foot kill zone allowed

only airsoft approved hand grenades are allowed, if you are not sure what is approved, contact breech


Basic Field Rules:
1. FULL SEAL GOGGLES ONLY:
While this generally constitutes goggles, shooting glasses-style protection may also be worn as long as it creates a full seal around the eyes. An elastic band or other type of strap for keeping the face protection securely sealed is required at all times. Mesh Goggles, regular shooting glasses, eye/seeing glasses, USGI sun/wind/dust goggles do not meet our requirements. No exceptions. Eye protection must conform to ANSI Z87.1 compliance or better.

2a. ANY PLAYER UNDER THE AGE OF 18 MUST HAVE FULL FACE PROTECTION:
This includes paintball/airsoft masks only. This rule does not include those players over the age of 18 but it is recommended that ALL players follow a full face protection guideline.

2b. PLAYERS OVER THE AGE OF 18 MUST COVER THIER EARS, NOSE, AND MOUTH
Due to the location we are playing at and the large amount of structures on the property, shots will happen at very close range. Due to this, we must insist that for your own protection, you cover your ears, nose, and mouth for your own saftey. MESH LOWER FACE/FULL FACE WITH GOGGLES UNDERNEATH are ALLOWED

3. THE SAFEZONE:
The Safe Zone is exactly that, a safe zone that is not in play on the field. While in the safe zone the players may remove their goggles, rest, perform any needed repairs or address any other issues at hand, etc. At no time is firing your airsoft weapon in, at, or out of the safe zone acceptable. This includes test firing or dry firing your weapon. If you must do so, you may go to the designated firing line at the field to perform these functions. Any player caught firing into the safe zone from the field of play will be ejected from the field without refund.

4. ACTING IN AN UNSAFE MANNER:
This includes physical contact, threatening others, using non-approved explosives, combustables, etc. We do not tolerate an unsafe environment, and we are all adults. If you are unsure what this rule covers, just remember that anything that may compromise player safety while on our field is unacceptable.



QUESTIONS OR PROBLEMS ABOUT THE FIELD OR RULES MAY BE DIRECTED TO BREECH ONLY


During the course of some events, certain pyrotechnics may be used or allowed at the field. This covers mostly smoke type pyrotechnics. Please check with the individual event requirements or game day rules for further details on what type of smoke pyrotechnics will be used/allowed.


General Field Information
No drugs or alcohol allowed on the field.
Smoking is only permitted in the safe zone.


Click HERE for Directions


Read more...